One of the best ways to enjoy the snow of Hokkaido, aside from all the winter sports, is by going to the Snow Festivals. There are many held all over Hokkaido, and Sapporo, being the largest city in the prefecture, holds one of the greatest every year.
2015 will be its 66th time, and it will run for a week during February, one of the coldest months in winter, with the average temperature being -3.1°C (26°F). The majority of the snow festival is outdoors, so be sure to keep warm by wearing a thick coat and gloves, and a hat or hood is recommended in the case of sudden blizzards.
Cold as it may be, the magnificent snow sculptures are sure to take your mind off it. There are around 5 massive snow sculptures across Odori Park, all sponsored by big companies such as local Hokkaido television broadcasters. Each year the sculptures have a different theme, from Disney to Star Wars. They are about 15 metres in height, and use about 500 5-ton truckloads of snow! Most of them are stages where numerous events take place, such as kids shows, music performances and contests. Over the years, a handful of famous Japanese celebrities and musicians have taken part. Not forgetting the actual contest of the smaller snow sculptures, that you will find lined up down Odori by teams from all over Japan, and the world.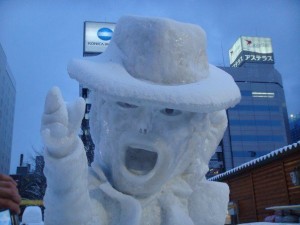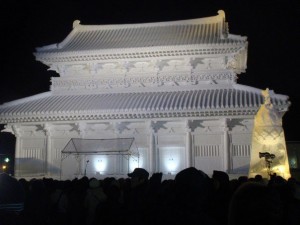 As with most events in Odori park, there will the usual stands of food and drink, known in this festival as the 'Hokkaido Winter Food Park'. This time, the focus will be on Hokkaido cuisine from a variety of areas in the prefecture, including hot dishes such as Hokkaido-born '
Soup Curry
', the famous 'Genghis Khan' (Mongolian mutton barbecue), and ramen noodles.
There are three main areas that make up the Sapporo Snow Festival, one of which is great fun for the kids and families. If you head to 'Tsudome', the Community Dome, you can experience snow activities, which is brilliant for tourists who are not used to a winter wonderland. Open every day during the festival from 9 am to 5 pm, people can take a ride on the 'tube slider', go snow rafting, try skiing, and more!
For those without families or who prefer a more relaxed way to spend their time, there is the Susukino zone, the main nightlife area of Sapporo. Along the streets will be a display of fabulous ice sculptures, which, as with the snow sculptures, will be judged. There will even be ways for you to experience the fun of ice by physically walking through, sitting on or touching it. In past years there have been "ice bars" and outdoor stalls, so you can enjoy a drink or two as you view the beautifully illuminated ice pieces.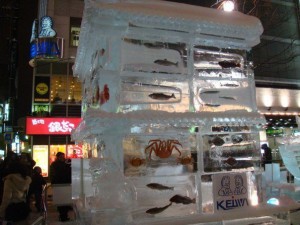 Both the ice sculptures in 'Susukino Ice World' and the snow sculptures in Odori Park are lit up at night. It can get extremely crowded, perhaps the most crowded event of the year in Sapporo, so if you prefer to stay away from the swarms of people and can withstand the colder temperatures, a weekday evening would be best to go.
Location of main snow sculptures: Odori Park, from 1-chome to 12-chome
Location of ice sculptures; Susukino, Ekimae-dori (Station Avenue), from Minami 4 to Minami 6
Opening Dates: February 5th – 11th
Light-up times: 4:30pm – 10pm
Official Snow Festival website in English: http://www.snowfes.com/english/
Location of "Tsudomu": 885-1 Sakaemachi, Higashi Ward, Sapporo