"Ice Cream Bars" – a slightly different approach to enjoying the nightlife of Sapporo.
Japan is home to many coffee shops or cafes that open till late hours of the night, however bars that offer ice cream and dessert along with alcoholic beverages may be something new to those not from Japan, or even Sapporo.
There are several late night opening cafes or bars in central Sapporo that offer ice cream parfaits or sundaes, and here are three favorites.
1. 'Milk Mura' (Milk Village)
Perhaps the most well known of the three, which is becoming increasingly popular with tourists, even out of the country.
There are only 3 options to their menu, but it is enough to keep the customers coming, therefore it is recommended to book a table beforehand on Friday evenings and weekends.
With a European and almost fairytale-like mix of cluttered objects, it is preciously unique.
Their main dish is only soft serve milk vanilla ice cream, which gives this cafe/bar its singularity. The bar has over a hundred varieties of alcohol and spirits that you can choose from; the number you choose depending on the menu option you go for. You delicately pour your chosen liquors over a spoonful of ice cream, like with ice cream sauce. The fun thing being that, it is not only the sweet or fruity spirits that go well with the ice cream, as they also have expensive and well-known whiskies, rum and even tequila. You can even have free seconds of the ice cream.
If it is your first time and you are overwhelmed by the choices of liquors, not to worry. The bar waiters will be happy to recommend you a few, and will ask if it is your first time so that they can explain their special way of how to eat the ice cream with the "alcoholic sauces".
The ice cream itself is delicious, which you can also buy as a take out in a cone.
The three options on the menu, A, B, and C, differ in that you can either have ice cream with 2 liquor choices but with crepe, sprinkles and other ice cream toppings, only 3 liquor choices, or half a cup of ice cream and a bag of freshly-baked-at-the-shop cookies to take home. All options (though unsure about option C) come with a small cup of hot coffee and a freshly baked little animal biscuit.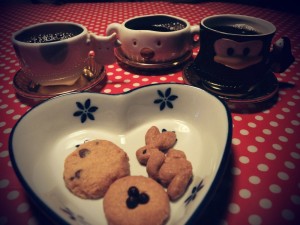 Option A with the ice cream toppings is my personal recommendation, and I also recommend going with a number of friends so that you can choose more liquors to share between you.
All options are priced at 1,390 yen (aside from the take out ice cream).
Although this bar is open till late it opens at lunchtime, meaning that it may be a good choice for families with children (who can have option C with no alcohol and cookies) as well.
Location: Sapporo-shi, Chūō-ku, Minami 4 Jōnishi, 3 Chome−8−1 New Hokusei Building, 6th Floor
Opening Times: 13:00 ~ 24:00, Wednesday 17:00 ~ 24:00 (Last orders at 23:00)
Closed: Mondays
2. 'Café Heart Drops'
Although it includes a bar counter, this place has much more of a café, homely feel compared to the other two. Perhaps slightly shabby compared to the others, but still cute with a warm, friendly atmosphere. You can literally kick your shoes off and relax, as you have to take them off before entering.
The menu is much more diverse, as it serves food such as pasta and rice dishes, and a variety of teas and coffees, but also cocktails and beer. The café itself advertises its ice cream parfaits as its most popular, where you can choose from 3 types, or you can customize your own. For a custom ice cream parfait, you can choose from around 5 different gelato ice creams, and 3 different toppings from a handful of choices. Priced at 850 yen each, they also offer a drink set where you can pick from some teas or coffees for 1,200 yen. The parfait is also beautifully presented. I would recommend going with a friend for a quiet, long chat, as in the early evenings it doesn't seem to be that busy, or even with family and children.
Location: Sapporo-shi, Chūō-ku, Minami 4 Jōnishi, 5 Chome−10−1 Tsumugi Building, 6th Floor
Opening Times: 17:00 ~ 25:00, Saturday lunch hours 11:30 ~ 15:00, Sunday 17:00 ~ 24:00 (Last orders at 23:00)
Closed: Thursdays, weekday public holidays (closes at 24:00 on weekend public holidays)
3. 'Sweets Bar Melty'
My personal favourite of the three, which I would refer to as a bar, rather than a café. With an underlying theme of 'Alice in Wonderland', this bar represents a fantasy world but with a slightly mature taste due to the bar layout and dark base colours. It is also said to have more male customers.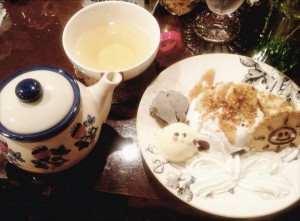 As a bar, it has a large list of alcoholic beverages to choose from, as well as soft drinks and different hot teas and coffees. Their main dish being an ice cream sundae, they also offer freshly baked doughnuts with ice cream as well. The best part about this bar's parfait and doughnut dish system is that it is completely customizable. You basically choose what you would like in each layer of your parfait, or what toppings you would like for your doughnuts, from a list which includes jelly, cream, fruits, sprinkles and your preferred ice cream gelato flavour. Once you fill out your order and pass it onto the barmaid or workers, they work their magic hands for a few minutes and present to you an absolutely adorable work of dessert art.
You can choose an alcoholic, or non-alcoholic liquor to pour over the parfait as well. Ice cream parfaits are at 1,080 yen plus 500 yen seat charge which includes otoshi little snacks (a common system with bars in Japan), making a total of 1,580 yen. As with the other cafes, it offers a set of a drink of your choice with the ice cream sundae at 1,500 yen, plus 500 yen seat charge making a total of 2,000 yen.
Recommended to go with one or a few friends, as seating spaces in the bar itself is limited, and it can get rather busy between 9 and 12 pm on the weekends. Although the food and bar is very cute, as it is a bar with later opening hours it is probably best for adults only, also as smoking is allowed.
Location: Sapporo-shi, Chūō-ku, Minami 4 Jōnishi, 5 Chome−8 F-45 Building, 9th floor
Opening Times: Monday to Thursday 6:00pm ~ 2:00am (Last order at 1:30am), Friday to Saturday and public holidays 7:00pm ~ 3:00am (Last order at 2:30am), Sunday 6:00pm ~ 12:00pm (Last order at 11:30pm)
Closed: Open all year round