Sapporo's biggest spring event is the 'Lilac Festival', which celebrates the lilac as the tree of Sapporo. It began in 1959, and is an outdoor festival where you can enjoy food, music and activities whilst viewing the lilacs. It is also a wonderful opportunity for foreigners to experience Japanese culture through the variety of workshops that are offered.
The main venue of the lilac festival is down 'Odori Park', which has around 400 lilac trees. The festival booths and activities run down Odori 5-chome to Odori 7-chome, the area within the park and also at Kawashimo park in Shiroishi-ku.
At 5-chome you can learn how to correctly serve Japanese tea from a professional at a workshop which is running from Wednesday 20th till Friday 22nd, from 10am till 4pm. If you are more interested in the traditional Japanese tea ceremony, you can watch and take part in one during the weekend between 11am and 3:30pm. On the same Saturday and Sunday, you can have your portrait drawn between 11am and 4pm by manga artists, learn the art of origami (Japanese paper folding) at a workshop from 11am to 4pm, or try your hand at "wa-chigiru" (Japanese paper tearing art) in a lesson between 11am and 4pm. There will also be stalls of crafts and antique items on sale.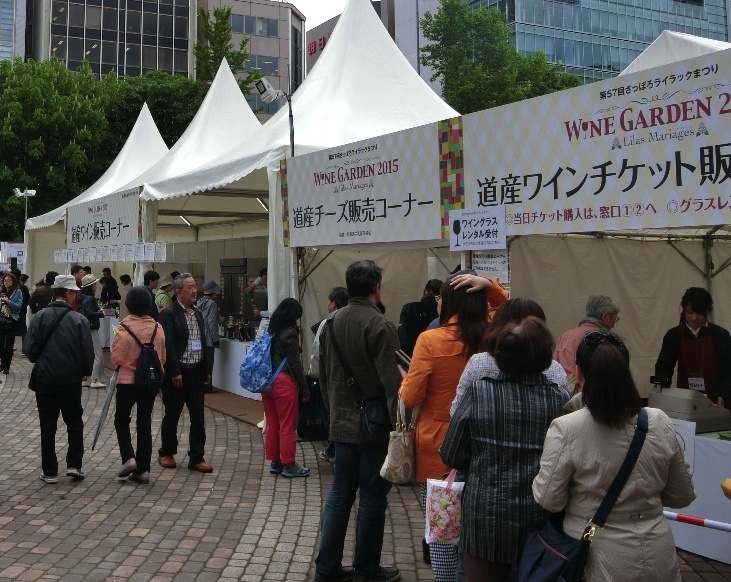 There is a stage at 6-chome, where many brass bands from schools, professional musicians and singers will be performing during Thursday 20th and Sunday 24th, and an "international food court" of stalls serving a variety of dishes from overseas, such as Spanish and German. A large cluster of chairs and tables, including those within tents or parasols are also available for you to eat, drink and relax at.
The 'Wine Garden', one of the biggest attractions at this festival, is at 7-chome, which gives you a chance to taste a number of different wines from 9 different wineries and farms from around Hokkaido. Do note that a ticket system is used to buy wines;
First buy 500 yen or 800 yen tickets at the "ticket counter", located next to "cheese corner".
At the "wine selling corner" (stall), you exchange your ticket with a glass of wine of your choice. With a certain number of wine tickets, you can also buy a bottle of wine.
The glasses are all rented out, therefore you must pay an extra 500 yen along with the purchase of your ticket as deposit, and when you return your glass to the "returning" stall, you get your money back.
As well as the stall selling wine, there is a large number of food stalls here, all with menus that should suit your wines – from cheese, meat and finer foods to more filling dishes like risottos, hamburgers and paella!
Within Odori park, there is also a "lilac photograph corner", a "stamp rally", and stalls or shops selling fresh vegetables and farm produce.
The Shiroishi-ku venue is quite a while away from Odori park, and you would need to access it via car or subway. There will be a few activities such as an art and craft workshop and small concert held on the Sunday. Events are also only held for the last 2 days of the festival, although the lilac tree exhibition will be on display until June 14th 2015.
Running right next to the 'Lilac festival' down Odori is the 'Sapporo Ramen Show' at 8-chome. Ramen, as in Japanese-style noodles in soup, is one of the most well-known and popular dishes in Hokkaido and Sapporo, and at this "Ramen show" noodle shops from around Japan line themselves up against big ramen names of Hokkaido. This year, there are 12 ramen shops participating from Tokyo, Fukuoka, Shiga, Osaka, and from Hokkaido there are shops from Hakodate, Asahikawa, Furano and Sapporo. Entry is free, and it is 800 yen per bowl of ramen. Like with the Wine Garden, buying the ramen also goes by a ticket system, so you must line up and buy a 800 yen worth ticket at the ticket counter first before exchanging it at the ramen shop of your choice.
As there are many activities and workshops running throughout the 2 weeks, it can get very busy. The food stalls, Wine Garden and Ramen Show can get especially busy at the weekends, and even at prime lunch time hours on the weekdays – expect lots of lines and queues for the ticket booths! If you wish to avoid the crowds, it is probably best to buy food in the morning or mid-afternoon, and to not go to the Wine Garden in the evenings. As it is the warmer season in Sapporo it is not too cold to eat and move around outside, however temperatures can still drop from the evenings, so it is still advised to take extra clothing to keep warm.
Location of the main venues:
1) Lilac festival in Odori park: 4 chome till 7 chome
2) Ramen show in Odori park: 8 chome
3) Lilac festival in Kawashimo park: Shiroishi-ku, with buses (no. 22, 23, or 24) running to the park from Shiroishi subway station
Opening Dates:
1) Lilac festival in Odori park: May 20th – May 31st 2015
2) Ramen show in Odori park: 19th – 24th May 2015
3) Lilac festival in Kawashimo park: May 30th – May 31st 2015
Opening times:
1) Lilac festival in Odori park: Most events begin at 10:00am, with the Wine Garden and food stalls running from 11am to 8pm on weekdays, and from 10am to 9pm on Fridays, Saturdays, Sundays, although it closes at 7pm on the last Sunday 31st
2) Ramen show in Odori park: 10:00am – 9:00pm (last order at 8:30pm)
3) Lilac festival in Kawashimo park: May 30th – May 31st 2015
Official 'Lilac Festival' website in English
Official 'Lilac Festival' website in Japanese
Offical 'Ramen Show' website in Japanese