If you find yourself in Hokkaido because of work, holiday or just the beaming smile of lady luck, chances are at some point you will want to take part in a winter sport or two. This is fortunate, as even though things like efficient bureaucracy, a regular rural rail service and decent cheese are nigh on impossible to find, ski resorts are to be found in a similar abundance to wasps in summertime.
Generally people gravitate towards Niseko owing to the fact that it has an unbelievable quality and quantity of snow which falls reliably every year. After this people find themselves in Furano promising to return next summer to smell the lavender.
The main problem with these two resorts is that despite their general excellence they are just too busy in peak season. So whilst it is not exactly off the beaten track, nor particularly cheap I would like to suggest a less famous, less busy, not quite as good alternative, Tomamu.
The main reasons for choosing Tomamu over say Rusutsu or Kiroro are geography and variety. If you live, or are in south east Hokkaido those premium resorts can be a long way away. It is still a relatively untapped resort. I use the term relatively very liberally, so don't expect Sherpas and St Bernards but it's nowhere near the saturation of Niseko. Tomamu is easily accessible as there is a direct highway link to Obihiro and Sapporo from the resort's door. If you think it might be a bit tricky to find, don't panic as you can use the two huge, ugly towers which dominate the vista as landmarks. If upon first sight these towers upset you, as well they should, try to think of them as prominent examples of what happens when you give a bad architect too much money.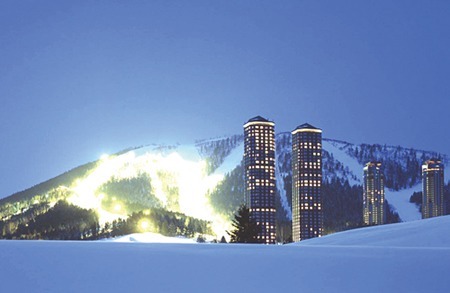 source: fuyu-spa.jp
If you are coming from Asahikawa you will need to take route 38 when you get into Furano and follow the signs which are relatively clear by Japanese standards of road sign subterfuge.
In terms of cost it is around the same as most other resorts in Hokkaido with the notable exception of Kamui Links which is an absolute bargain. Prices are set at around the ¥5,000 mark for a one day pass. However if you live in Hokkaido you can sign up on the Tomamu website as a friend of the resort and as long as you have your Gaijin card and your mobile with you when you arrive, you will be able to get in for half price. In addition to this you will receive a coupon for ¥1,000 worth of lunch and a free ticket to the Onsen. If you don't live in Hokkaido you will get none of those things and have to pay full price, but you can gloat about how much more money you earn on a daily basis thereby negating the problem and putting the world back in balance again.
The courses themselves vary from the ridiculously mundane to the pretty good fun. There're plenty of slopes for learners and a wide range of lessons available catering for all abilities. The steeper slopes make up a good percentage of the runs but there aren't any courses that a half decent skier or snowboarder will look at and think of broken bones.
As you look out on the mountain from the gondola station, the right hand side is generally occupied by the guests at the Hoshi resort. This means that you'll find a lot of ski schools and learners pottering around especially by the lift nearest the hotel. Having said that, on a powder day there is a lot of fun to be had especially if you turn right at the top of the second lift and then drop down off the trail.
If you decide to take the Gondola up there are two options. To the right is a long country lane of a course which if you follow it all the way down is a bit of a Sunday drive, mainly reserved for practicing ground tricks and swerving to avoid injured kids. Don't let this put you off as if you follow it down a while you can take any number of right turns onto some of the steeper sections. The snow park, which has pretty decent kickers, a good half pipe and some boxes and rails for those with vertigo is on this side as is a large portion of the off piste tracks. If you turn left at the top it starts off, especially for snowboarders, as practice for your skateboarding impressions. Once into the gradient however, it brightens up considerably, as the main run is fairly decent no matter which route you take and there are lots of entry points into somewhat sparser yet still enjoyable off piste runs.
With regards to Tomamu's approach to off piste riding it is fairly relaxed and has none of the Furano: enter and die! approach. Ostensibly you are required to sign up, for free, on a little register stating that yes indeed you are willing to risk life and limb to weave through the trees and if it doesn't go according to plan then you are solely to blame. As reward for this they will give you a little bib so you can pretend you are on Ski Sunday and then the world, or in this case two hills, is your oyster. In practice though it's pretty much anything goes. This is with the pre-requisite that you don't do anything daft and need to be found and dragged out. If that happens, I imagine it will be a stern telling off, a very hefty medical bill and a metaphoric slap on the wrists.
The highest off piste section is accessed by a lift which is one run over from the gondola, to the right as you ascend. From there you can choose as you wish but remember at about 150 metres down you will cross section the flat tracks so keep an eye out for a collapsed high school couple when you do so.
As stated it's fairly quiet for a big place. The queue for the gondola never gets to much more than 5-10 minutes and if you keep an odd schedule and take a very early or very late lunch you will find that for a good hour and a half it is pretty much your own private resort, so feel free to indulge yourself in some Russian billionaire fantasy as you curse those who dared track out your tree run. One word of note, the final stretch is planar in the extreme. If coming in from the far right (no UKip jokes) keep your speed up or you'll be walking to the gondola.
So, there you have it. It's a relaxed, quiet, fun resort nowhere near perfect but definitely worth the trek and definitely worth at least two days of your ski holiday.
Getting there:
Tomamu is a 1.5 to 2 hour drive from Sapporo and has several daily buses running from Sapporo, Obihiro, Furano and New Chitose Airport. Detailed info can be seen here.
Address:
Naka-Tomamu, Shimukappu, Yufutsu, Hokkaido (open Google map)